Roller Coasters & Energy!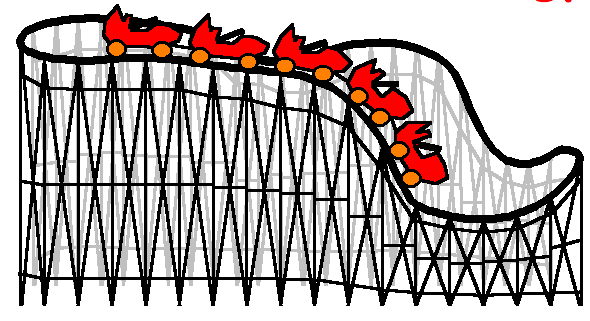 INTRODUCTION
Warning! In order to complete this webquest, read EVERYTHING. If, after reading everything, you are still unclear about a step, see me.What's the best part of an amusement park? While some might say cotton candy, churros, or water rides, I believe the best part of amusement parks are the humongous roller coasters. The bigger the better!! Why Roller Coasters? Because they're awesome thrill-seeking, scream-provoking, vomit-inducing machines. Even though these rides feel dangerous, they're actually very safe inventions designed to feel as if you're breaking all rules of science. Are they? Of course not, physics plays a huge role in the design, motion, & fun of roller coasters.

Your Goal: Learn about different types of energy involved with rollercoasters, BUILD a rollercoaster with 2 loops and 2 hills, and create a Coaster Poster that demonstrates your knowledge of the basic physics behind roller coasters, specifically motion, forces, and the transfer of energy.
Part 1 : Roller Coaster History: Watch Link/ download Videos 1 and write 2 bullet points about something you learned!
Part 2 : Roller Coaster Records: Answer these questions: click here for web information
Height Rankings: Tallest Steel:______________________ Tallest Wooden:________________________
Speed Rankings: Fastest Steel: _____________________ Fastest Wooden:___________________________
Part 3 : Roller Coaster Elements: : Click here for web information /click here for Watch Link/ download Video 2
Batwing Butterfly Inversion Camelback Cobra Roll Corkscrew Hammerhead Turn Heartline Roll
Horseshoe Immelmann Loop Pretzel Loop Raven Turn Sea Serpent Roll Top Hat
List your FAVORITE 3 elements. Describe what is so cool about each: Draw your favorite element too.
Want some cool Roller Coasters? Check out these cool coasters!

Video Notes: click on Video number in the video folder. Write 2 notes
Physics Fundamentals & Discover Channel Roller Coaster Engineering Watch Link/ download Video 6: 3 bullet points
1.________________________________________________________________________________________
2.________________________________________________________________________________________
3.________________________________________________________________________________________
......................

After watching the videos, what would your dream rollercoaster look like? Draw it: